IN THE NEWS
Digital Harmonic to Bring its Powerful AI-Driven Image and Video Enhancing Solution to the Federal Market
ELLICOTT CITY, Md.–(BUSINESS WIRE)–Turning night into day, clearing up fog, and removing cloud cover in image and video sources, in real-time, Digital Harmonic's PurePixel® solution will help the Federal mission secure critical areas and communities, enabling our military to make better-informed command and control decisions.
Digital Harmonic® LLC, a leading image, video, and signal processing technology company, announced today they have chosen to collaborate with Dell Technologies OEM | Embedded & Edge Solutions to bring PurePixel, designed on a scalable suite of hardware solutions from edge devices to rack mounted servers, to federal agencies.
PurePixel is an upstream pre-processing component to enhance the quality and efficiency of machine learning (ML) and computer vision (CV) algorithms increasing the success of the output for real-time video. PurePixel also improves advanced analytics software with cloud-based ML algorithms for object recognition, object detection, image annotation/labeling, semantic image segmentation analysis, and edge computing capabilities.
One of the options for delivering PurePixel to customers is on the Dell EMC PowerEdge C4140 server, which is an ultra-dense, accelerator optimized rack server system purpose-built for artificial intelligence (AI) solutions with a leading GPU-accelerated infrastructure. The platform shines enabling demanding workloads and enhancing low latency performance for today's most advanced AI use-cases.
"With the proliferation of optical sensors across all domains expected to reach 45 billion cameras in the next few years, the need for enhanced video processing becomes paramount to the success of AI/ML. Our process provides clarity when necessary to avoid the biases of trained models. We can think of no better collaborator than Dell Technologies to achieve the speed and scale needed to place our powerful technology in the hands of Federal customers to help give the US a competitive advantage," said Scott Haiges, CEO of Digital Harmonic.
The fundamental technology of Digital Harmonic was developed by Paul Reed Smith, namesake of PRS Guitars, and his father, an applied mathematician. What started as an experiment for measuring waveforms from a guitar string to create a new guitar synthesizer ended up producing technologies that will revolutionize the practice of signal and imaging processing.
Digital Harmonic Releases Automatic Image Enhancement Technology: PurePixel
ELLICOTT CITY, Md.–(BUSINESS WIRE)–Digital Harmonic, an innovative image and signal processing technology company, today announced it released the first version of its automatic image enhancement technology, PurePixel. With a suite of software products planned, Digital Harmonic's initial offering provides the ability to enhance the quality of data in images, video, and streams. PurePixel performs automatic recognition and programmatic manipulation of pixel values to correct and amplify detail, enhance contrast, and reduce noise. Residing upstream of a machine learning image classifier, PurePixel is little more than a "bump in the wire" in any real-time image, video, or stream processing workflow.
With less than one frame delay, PurePixel can either stream or store the heightened information and is operational on Electro-Optic (E), Infrared (IR), Synthetic Aperture Radar (SAR), Multi-and Hyper-Spectral imager (MSI and HIS) and Non-Imaging IR systems. In various machine learning image classifiers, PurePixel has continually demonstrated increased object detection and proper classification in the areas of Intelligence Surveillance and Reconnaissance (ISR), quality control in manufacturing and agriculture, security, navigation, forensics and other domains.
Mason Baron, CTO of Digital Harmonic, applied decades of experience in software development, surveillance system design, and imagery, signal, and radar processing to bring PurePixel to market.
"We are incredibly excited to release this version of PurePixel, as it fills a critical void in video processing for surveillance that improves the performance of all downstream processing and exploitation and increases the range of effectiveness of existing sensors. It also greatly advances imager effectiveness at night and in all-weather environmental conditions and gives us an excellent foundation to aggressively build on over the next several months," says Baron.
Digital Harmonic CEO, Scott Haiges says, "PurePixel will augment existing systems and interface as a plug-in to provide programmatic enhancement that significantly increases the quality and usability of images, videos, and streams. PurePixel is redefining 'state of the art' in image, video, and real-time stream enhancement, and is changing the game for computer vision."
About Digital Harmonic
Digital Harmonic offers a better way to see and hear the world, through a suite of software products designed to enhance the quality of data in images and signals across the frequency spectrum. Created in 2016, after years of research by founder Paul Reed Smith, of PRS Guitars, Digital Harmonic holds almost 100 registered and pending trademarks, several copyrights and nearly two dozen patents. With applications in intelligence and defense sectors, healthcare, and manufacturing industries, Digital Harmonic is positioned to not only transform the way we live our lives, but how we see the world. For more information, visit digitalharmonic.com.
Digital Harmonic Welcomes Mason Baron as Chief Technology Officer
Digital Harmonic announces the appointment of Mason Baron as Chief Technology Officer. Baron brings 18 years of software development, large team leadership, artificial intelligence, machine learning, surveillance reconnaissance systems design, and imagery, signal, and radar processing experience to Digital Harmonic.
A master guitar-maker turned high-tech guru
Chris Wallace of Fox News Sunday sits down with Paul Reed Smith, the Founder of PRS Guitars and Digital Harmonic, to discuss guitars and technology.
How Paul Reed Smith Went From Guitars to Spy Technology
How Paul Reed Smith Went From Guitars to Spy Technology
His creations are beloved by both Carlos Santana and the US Special Operations Command.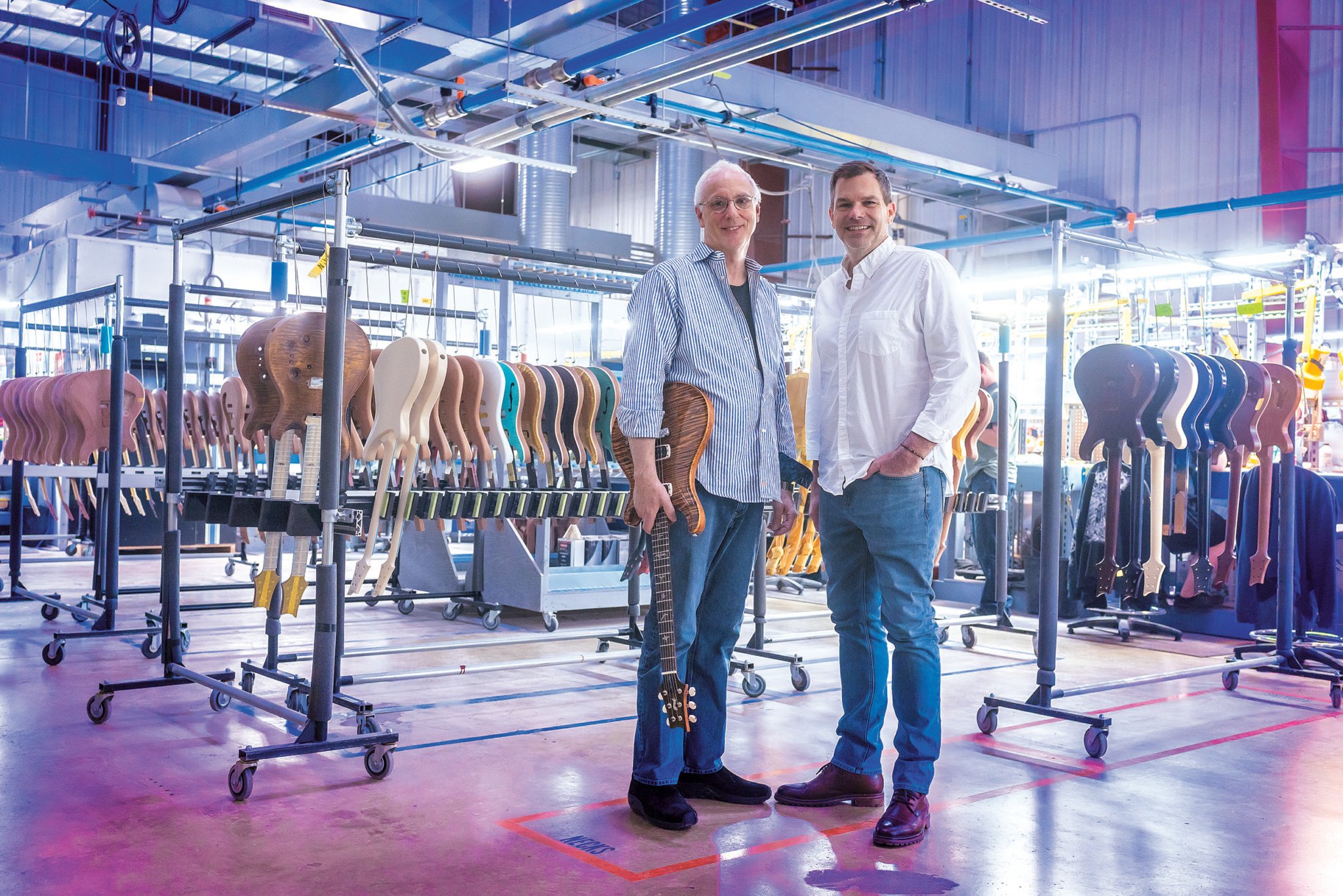 At a room-length table in a bland conference room on the second floor of an office building an hour north of DC, two guys are talking about . . . well, I can't really tell you. We're discussing some of their work, which involves parts of America's national-security apparatus. But every time they let slip a detail that might reveal too much, the man across the table—the one with the glasses and unkempt hair and somewhat frenetic manner—asks me to keep it off the record.
Which is fine; I'm more interested in what they do than whom they do it for. What I can tell you is this: The guy across the table, Paul Reed Smith, has figured out a way to improve hazy intelligence photos to such a great extent that various military and security organizations—the kind that don't want journalists to know what they're up to—are apparently very excited.
The novelty that has brought a journalist to the room, though, is that Smith is not an espionage-world figure. He's a rock guy—better known as the founder and CEO of PRS Guitars, which he launched in 1985 in Annapolis, not far from where he grew up in Bowie. Now located in Stevensville, Maryland, it has grown into a world-renowned business, providing axes for the likes of Carlos Santana and Dave Navarro.
Designing guitars is part art and part science, and Smith, the son of mathematicians, was able to tap his facility with geometry and trigonometry to help create his products. Still, he was never much of a numbers geek. "I didn't want to be a mathematician," he says. "I wanted nothing to do with it. You get me to do algebra, I'll hit you. I can't stand it."
Yet these days, Smith's career has taken a turn toward the analytic. In 2015, he founded a spinoff, Digital Harmonic, that's focused not on music but on advanced-imaging products—technology that, surprisingly, grew out of his music expertise.
Digital Harmonic's tools let users perceive visuals and sounds that would otherwise be obscured. The math is too complicated to explain here, but the results are impressive: By analyzing the embedded data in waveforms and images, it can make video that was shot at night instantly look as clear as day, or enhance indecipherable sound recordings so conversations can be understood.
Smith's tech products have earned attention from the defense, intelligence, and medical communities. The US Navy and Northrop Grumman have purchased it, and Digital Harmonic recently announced a partnership with SOFWERX, a technology incubator run by the military. Where John Mayer once came calling, now it's as likely to be the US Special Operations Command.
---
Smith started developing this technology nearly 20 years ago. It happened by accident. He and his late father, Jack, were tinkering with ideas for a new PRS synthesizer. While working on it, they figured out a mathematical method of amplifying undetected data from sound waves. Essentially, they could use a computer to isolate and boost individual sounds in a recording.
They tried it out on Led Zeppelin's "Stairway to Heaven" and were able to pull out each instrument to hear it without the other sounds—something previously impossible without access to multitrack master tapes. "What my father and I discovered, we didn't even have words for," Smith says. "But I thought it could be really powerful."
That instinct was confirmed in the early 2000s when Smith met Henry Hugh Shelton—who had until recently been chairman of the Joint Chiefs of Staff—at a DC event and described what his invention could do. As Smith tells it, Shelton was so taken by the idea that he came by the PRS office. Smith played Shelton the ripped-apart Led Zeppelin recording. "He goes, 'This has national-security implications,' " Smith recalls.
Over the next decade, word of the technology bounced around the intelligence community, but Smith didn't get serious about turning it into a business until 2015, when, with $5 million from private investors, he spun it into its own company. By the next year, Digital Harmonic had an office and staff, including CEO Scott Haiges, previously a partner at a venture-capital firm. Haiges was instrumental in packaging Smith's tech into two tools—Precision Measuring Matrix and Pure Pixel—for cleaning up audio and enhancing images, respectively. What started as a fun experiment with his dad had now become a real business.
---
With Haiges at the helm, Smith has pulled back a bit from Digital Harmonic. But the two still work closely together, bouncing off of each other's energy like magnets oriented at their identical poles.
One thing that gets them going is new ideas for how to use their products. Oil and gas executives have contacted them to see if a tool could help with drilling, for example. And one potential customer asked Haiges if fingerprints could be captured from a photo that included the person's hand. Sure enough (and rather creepily), it worked.
While I was at their office, Smith and Haiges were excited to show off what could be the most consequential use for the technology yet: medical imaging. They pulled up some x-rays of a hip bone, which had been taken using a low dose of radiation—safer for the patient but resulting in a blurry picture. Then, with the press of a button, the x-ray was clear. "We're going to push hard in the health-care space," Haiges said, "because I think we can make a significant difference with the level of certainty and clarity in images that is not possible right now."
Whatever happens, Smith will look for new ways to move Digital Harmonic ahead. "Who knows what the ultimate impact will be?" he says. "But if you could measure a heartbeat better than it's being measured, how could you not tackle that?"
This article appears in the April 2019 issue of Washingtonian.
Bloomberg Markets Interview with Founder Paul Reed Smith and CEO Scott Haiges
Our Founder Paul Reed Smith and CEO Scott Haiges wrapped up their live, on-air interview with Bloomberg Markets. We hope you'll listen to and share the interview here!
For more information about Digital Harmonic, please visit our Contact Us page.
Digital Harmonic Founder interviewed on Bloomberg Radio
Our Founder Paul Reed Smith and CEO Scott Haiges were honored as they went live on Bloomberg Radio—"the world's only global 24-hour business radio station"—to discuss Digital Harmonic, on Thursday, August 17 at 4:45 PM Eastern Standard Time.
For more information, please visit our contact us page.
Founder Paul Reed Smith Speaks at MIT's Cybersecurity, Exploitation and Operations Workshop
We were very pleased to announce that our Founder Paul Reed Smith was the keynote speaker at MIT's Cybersecurity, Exploitation and Operations Workshop, which took place on June 6th and 7th! For more information, please contact us.
Founder Paul Reed Smith Speaks at and Receives Honorary Doctor of Public Service Degree from Washington College
As reported by the ChesaDel Crier, our Founder Paul Reed Smith will be "…the speaker for the J.C. Jones Seminar in American Business…" and will "…receive an honorary degree, Doctor of Public Service," from Washington College in Chestertown, Maryland on April 17th!
Introducing Digital Harmonic
Legendary guitar maker Paul Reed Smith (founder of PRS Guitars), a team of renowned scientists and physicians, and a former Commissioner of the Food and Drug Administration are launching a new technology to develop enhanced, sharper X-rays while significantly reducing the amount of radiation exposed to patients and medical providers.
The new company, Digital Harmonic™ LLC, has developed a proprietary and patented image and waveform
technology that aims to revolutionize how the medical community implements x-rays. The company has already raised $5 million and is seeking to raise another $5 million to fund its growth.
The technology is the result of a decade of research that started with Paul Reed Smith's late father Jack Smith, an applied mathematician. Combining his understanding of precision mathematics and physics together with
his son Paul's understanding of sound and harmonics from guitar making created this revolutionary technology.
"We figured out how to extract previously undetected data out of complex sound waveforms and then applied that new theory to create remarkably detailed images," said Smith. "The potential for the medical community
to be able to get much more precise images is exciting."
Smith continues: "As a mathematical and physics solution, this image and waveform technology could truly
revolutionize the practice of medical imaging by providing physicians with images that provide much greater detail. Most existing medical solutions are either chemical, radiation or mechanical. This new approach
proposes a mathematical and physics solution for medicine."
Digital Harmonic has assembled an advisory board of nationally prominent scientists and medical experts who will help guide the development of its products, including:
Dr. Andrew C. von Eschenbach, President, Samaritan Health Initiatives Inc., former head of the Food and Drug
Administration, former Director, National Cancer Institute;
William G. Nelson, M.D., Ph.D., director of the Sidney Kimmel Cancer Center at Johns Hopkins Medical Center;
Theodore DeWeese, M.D. Professor and Chairman of Radiation Oncology and Molecular Radiation Sciences,
Johns Hopkins;
John Wong, Ph.D., Professor of Radiation Oncology and Molecular Radiation Sciences, Johns Hopkins;
Alex Szalay, Ph.D, Professor of Astrophysics and Computer Sciences, Johns Hopkins;
Srinivasan Yegnasubramanian, Associate Professor of Oncology, Johns Hopkins;
Elliott McVeigh, Ph.D Professor, Bioengineering, University of California San Diego;
Paul Reed Smith, General Managing Partner-PRS Guitars and a principal inventor of the Company's proprietary
technology; and,
Michael C. Hibler, MPA, Director of Development, Johns Hopkins.
In addition to developing the technology for increasing image resolution for x-rays, the company expects
to utilize its patented image, sound and analytic abilities to manufacture products to aid other diagnostic
technologies in addition to x-rays.
Smith said the company's proprietary technology could also have wide applications in the defense community, which relies on access to precise image analysis. The company is currently in contract negotiations with a
major defense contractor for the U.S. Navy.
Digital Harmonic™ LLC commenced operations upon achieving its minimum funding requirement of $5 million. The company will continue to accept subscriptions for additional units until it reaches its maximum initial
funding of $10 million. According to a Private Placement Memorandum, each unit is $500,000, which may be fractionalized at the company's discretion.