IN THE NEWS
A master guitar-maker turned high-tech guru
Chris Wallace of Fox News Sunday sits down with Paul Reed Smith, the Founder of PRS Guitars and Digital Harmonic, to discuss guitars and technology.
How Paul Reed Smith Went From Guitars to Spy Technology
How Paul Reed Smith Went From Guitars to Spy Technology
His creations are beloved by both Carlos Santana and the US Special Operations Command.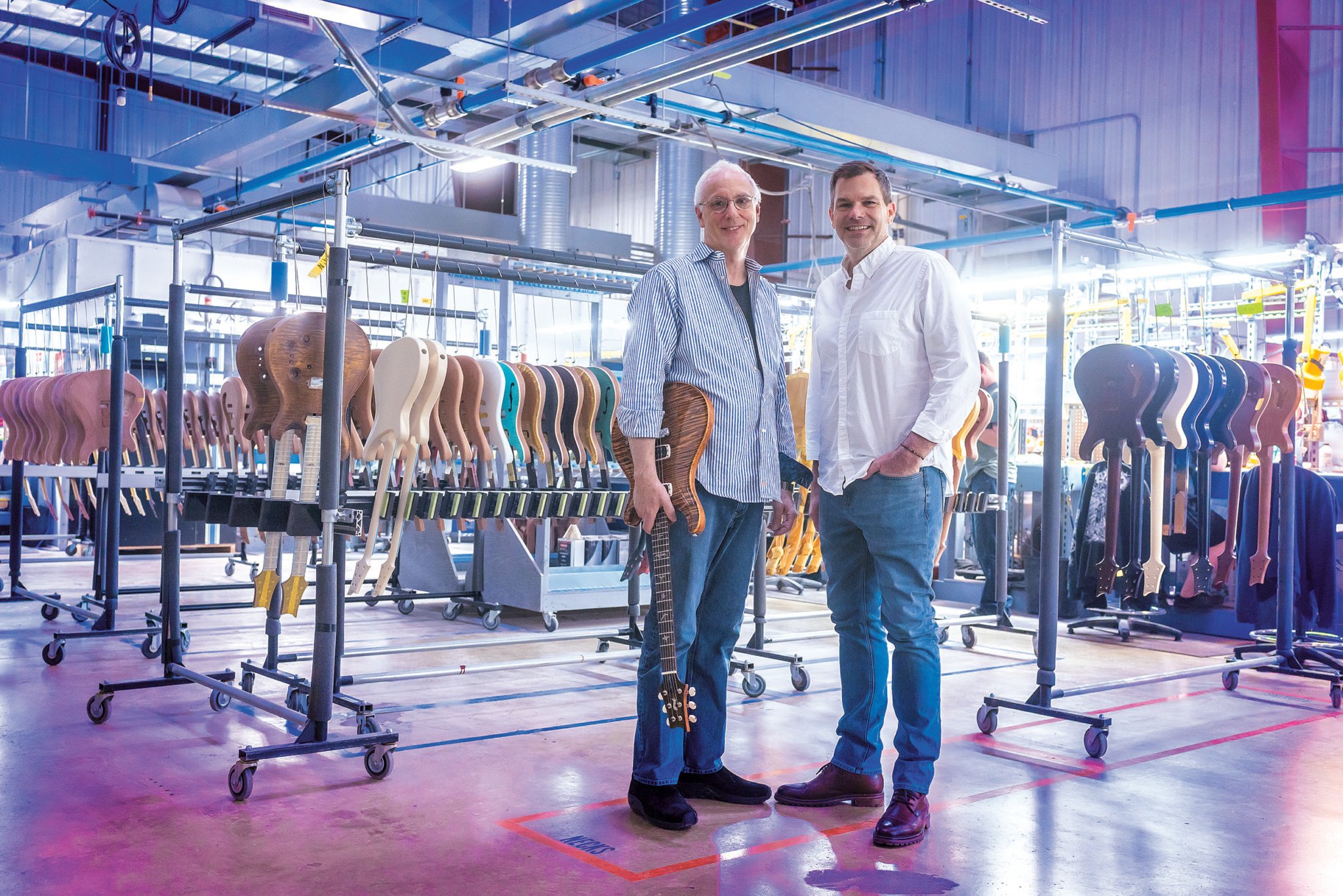 At a room-length table in a bland conference room on the second floor of an office building an hour north of DC, two guys are talking about . . . well, I can't really tell you. We're discussing some of their work, which involves parts of America's national-security apparatus. But every time they let slip a detail that might reveal too much, the man across the table—the one with the glasses and unkempt hair and somewhat frenetic manner—asks me to keep it off the record.
Which is fine; I'm more interested in what they do than whom they do it for. What I can tell you is this: The guy across the table, Paul Reed Smith, has figured out a way to improve hazy intelligence photos to such a great extent that various military and security organizations—the kind that don't want journalists to know what they're up to—are apparently very excited.
The novelty that has brought a journalist to the room, though, is that Smith is not an espionage-world figure. He's a rock guy—better known as the founder and CEO of PRS Guitars, which he launched in 1985 in Annapolis, not far from where he grew up in Bowie. Now located in Stevensville, Maryland, it has grown into a world-renowned business, providing axes for the likes of Carlos Santana and Dave Navarro.
Designing guitars is part art and part science, and Smith, the son of mathematicians, was able to tap his facility with geometry and trigonometry to help create his products. Still, he was never much of a numbers geek. "I didn't want to be a mathematician," he says. "I wanted nothing to do with it. You get me to do algebra, I'll hit you. I can't stand it."
Yet these days, Smith's career has taken a turn toward the analytic. In 2015, he founded a spinoff, Digital Harmonic, that's focused not on music but on advanced-imaging products—technology that, surprisingly, grew out of his music expertise.
Digital Harmonic's tools let users perceive visuals and sounds that would otherwise be obscured. The math is too complicated to explain here, but the results are impressive: By analyzing the embedded data in waveforms and images, it can make video that was shot at night instantly look as clear as day, or enhance indecipherable sound recordings so conversations can be understood.
Smith's tech products have earned attention from the defense, intelligence, and medical communities. The US Navy and Northrop Grumman have purchased it, and Digital Harmonic recently announced a partnership with SOFWERX, a technology incubator run by the military. Where John Mayer once came calling, now it's as likely to be the US Special Operations Command.
---
Smith started developing this technology nearly 20 years ago. It happened by accident. He and his late father, Jack, were tinkering with ideas for a new PRS synthesizer. While working on it, they figured out a mathematical method of amplifying undetected data from sound waves. Essentially, they could use a computer to isolate and boost individual sounds in a recording.
They tried it out on Led Zeppelin's "Stairway to Heaven" and were able to pull out each instrument to hear it without the other sounds—something previously impossible without access to multitrack master tapes. "What my father and I discovered, we didn't even have words for," Smith says. "But I thought it could be really powerful."
That instinct was confirmed in the early 2000s when Smith met Henry Hugh Shelton—who had until recently been chairman of the Joint Chiefs of Staff—at a DC event and described what his invention could do. As Smith tells it, Shelton was so taken by the idea that he came by the PRS office. Smith played Shelton the ripped-apart Led Zeppelin recording. "He goes, 'This has national-security implications,' " Smith recalls.
Over the next decade, word of the technology bounced around the intelligence community, but Smith didn't get serious about turning it into a business until 2015, when, with $5 million from private investors, he spun it into its own company. By the next year, Digital Harmonic had an office and staff, including CEO Scott Haiges, previously a partner at a venture-capital firm. Haiges was instrumental in packaging Smith's tech into two tools—Precision Measuring Matrix and Pure Pixel—for cleaning up audio and enhancing images, respectively. What started as a fun experiment with his dad had now become a real business.
---
With Haiges at the helm, Smith has pulled back a bit from Digital Harmonic. But the two still work closely together, bouncing off of each other's energy like magnets oriented at their identical poles.
One thing that gets them going is new ideas for how to use their products. Oil and gas executives have contacted them to see if a tool could help with drilling, for example. And one potential customer asked Haiges if fingerprints could be captured from a photo that included the person's hand. Sure enough (and rather creepily), it worked.
While I was at their office, Smith and Haiges were excited to show off what could be the most consequential use for the technology yet: medical imaging. They pulled up some x-rays of a hip bone, which had been taken using a low dose of radiation—safer for the patient but resulting in a blurry picture. Then, with the press of a button, the x-ray was clear. "We're going to push hard in the health-care space," Haiges said, "because I think we can make a significant difference with the level of certainty and clarity in images that is not possible right now."
Whatever happens, Smith will look for new ways to move Digital Harmonic ahead. "Who knows what the ultimate impact will be?" he says. "But if you could measure a heartbeat better than it's being measured, how could you not tackle that?"
This article appears in the April 2019 issue of Washingtonian.
Bloomberg Markets Interview with Founder Paul Reed Smith and CEO Scott Haiges
Our Founder Paul Reed Smith and CEO Scott Haiges wrapped up their live, on-air interview with Bloomberg Markets. We hope you'll listen to and share the interview here!
For more information about Digital Harmonic, please visit our Contact Us page.
Digital Harmonic Founder interviewed on Bloomberg Radio
Our Founder Paul Reed Smith and CEO Scott Haiges were honored as they went live on Bloomberg Radio—"the world's only global 24-hour business radio station"—to discuss Digital Harmonic, on Thursday, August 17 at 4:45 PM Eastern Standard Time.
For more information, please visit our contact us page.
Founder Paul Reed Smith Speaks at MIT's Cybersecurity, Exploitation and Operations Workshop
We were very pleased to announce that our Founder Paul Reed Smith was the keynote speaker at MIT's Cybersecurity, Exploitation and Operations Workshop, which took place on June 6th and 7th! For more information, please contact us.
Founder Paul Reed Smith Speaks at and Receives Honorary Doctor of Public Service Degree from Washington College
As reported by the ChesaDel Crier, our Founder Paul Reed Smith will be "…the speaker for the J.C. Jones Seminar in American Business…" and will "…receive an honorary degree, Doctor of Public Service," from Washington College in Chestertown, Maryland on April 17th!
Introducing Digital Harmonic
Legendary guitar maker Paul Reed Smith (founder of PRS Guitars), a team of renowned scientists and physicians, and a former Commissioner of the Food and Drug Administration are launching a new technology to develop enhanced, sharper X-rays while significantly reducing the amount of radiation exposed to patients and medical providers.
The new company, Digital Harmonic™ LLC, has developed a proprietary and patented image and waveform
technology that aims to revolutionize how the medical community implements x-rays. The company has already raised $5 million and is seeking to raise another $5 million to fund its growth.
The technology is the result of a decade of research that started with Paul Reed Smith's late father Jack Smith, an applied mathematician. Combining his understanding of precision mathematics and physics together with
his son Paul's understanding of sound and harmonics from guitar making created this revolutionary technology.
"We figured out how to extract previously undetected data out of complex sound waveforms and then applied that new theory to create remarkably detailed images," said Smith. "The potential for the medical community
to be able to get much more precise images is exciting."
Smith continues: "As a mathematical and physics solution, this image and waveform technology could truly
revolutionize the practice of medical imaging by providing physicians with images that provide much greater detail. Most existing medical solutions are either chemical, radiation or mechanical. This new approach
proposes a mathematical and physics solution for medicine."
Digital Harmonic has assembled an advisory board of nationally prominent scientists and medical experts who will help guide the development of its products, including:
Dr. Andrew C. von Eschenbach, President, Samaritan Health Initiatives Inc., former head of the Food and Drug
Administration, former Director, National Cancer Institute;
William G. Nelson, M.D., Ph.D., director of the Sidney Kimmel Cancer Center at Johns Hopkins Medical Center;
Theodore DeWeese, M.D. Professor and Chairman of Radiation Oncology and Molecular Radiation Sciences,
Johns Hopkins;
John Wong, Ph.D., Professor of Radiation Oncology and Molecular Radiation Sciences, Johns Hopkins;
Alex Szalay, Ph.D, Professor of Astrophysics and Computer Sciences, Johns Hopkins;
Srinivasan Yegnasubramanian, Associate Professor of Oncology, Johns Hopkins;
Elliott McVeigh, Ph.D Professor, Bioengineering, University of California San Diego;
Paul Reed Smith, General Managing Partner-PRS Guitars and a principal inventor of the Company's proprietary
technology; and,
Michael C. Hibler, MPA, Director of Development, Johns Hopkins.
In addition to developing the technology for increasing image resolution for x-rays, the company expects
to utilize its patented image, sound and analytic abilities to manufacture products to aid other diagnostic
technologies in addition to x-rays.
Smith said the company's proprietary technology could also have wide applications in the defense community, which relies on access to precise image analysis. The company is currently in contract negotiations with a
major defense contractor for the U.S. Navy.
Digital Harmonic™ LLC commenced operations upon achieving its minimum funding requirement of $5 million. The company will continue to accept subscriptions for additional units until it reaches its maximum initial
funding of $10 million. According to a Private Placement Memorandum, each unit is $500,000, which may be fractionalized at the company's discretion.
Digital Harmonic Welcomes CEO Scott Haiges
Today, we're pleased to introduce our new CEO, Scott Haiges! Scott comes to us from the venture capital world and has over twenty years of experience building and selling technology companies. He will be responsible for operations and business development.
Scott was enamored with our technology from the first time he saw it, and after spending a few months assisting with fundraising, Founder Paul Reed Smith offered Scott the position.
For more information on Scott and our other team members, visit our Team page.
Living Within the Quadrivium
Classical scholars may only describe the connection between geometry and music through the quadrivium—four of the seven arts associated with a liberal arts education—but Paul Reed Smith lives within that nexus. Smith is a respected master luthier and the founder and owner of PRS Guitars. His state-of-the-art factory produces finely crafted, high-end instruments that are played and endorsed by such prominent musicians as Carlos Santana and Howard Leese. Last year, news broke that Smith had created something different—a technological advancement in image resolution that could be groundbreaking in medicine and other fields.
Smith is a born craftsman. He enrolled in multiple shop classes while attending Bowie High School so he could get his hands on the machines. "It was the only way I could learn how to use a lathe, or a milling machine, or a band saw," he says, "It was all very important stuff." He was curious and interested, and his first experiences creating objects from wood felt very natural to him. "It did not feel like something that was difficult," he recalls. "It was like going on the beginning of a journey. It was joyful."
Smith wanted to play music but didn't have the money to buy a guitar, so he applied his woodworking skills. "I didn't see it as art at the time. But everybody else was making cutting boards, and I was making bass guitars in shop." He did the same with gear, measuring a speaker cabinet, buying 15-inch speakers at Radio Shack, and building his own version of an Electro-Voice Eliminator speaker.
A transition occurred when he set up his workshop in a garret at 33 West Street in Annapolis. He no longer saw himself only as a guitar maker and repairman, and he began to feel the artistry of his work. His design process is both intuitive and cerebral. "My parents were both mathematicians, and I didn't understand that I carried the gene," he explains. Smith hated arithmetic and algebra with a passion, but applied three-dimensional mathematics, such as geometry and trigonometry, came naturally. "I could rotate a [guitar] neck in my head easily to see all the different parts. I could see the speaker cabinet from all angles in my head. It was easy. Once I measured it, I could make it. It's very much graphic math."
The mathematics of sound waves led Smith to his latest discovery. While trying to create a guitar synthesizer, he spoke with his father, who had studied with the theoretical physicist George Gamow at George Washington University. He asked how to possibly accelerate the time it took to know the frequency of a tone, and his father responded, "Just measure the high harmonics; you'll know before the first [oscillation] goes by." That sounded implausible to Smith, but reasonable to his father. A physics lesson ensued.
His father explained that graphic displays of sound signals over frequency and time are typically displayed as a waterfall pattern on a surface. He posited that the surface is not real, and hence sound measurements could be derived without it. The next day, they were in the patent office. "We had so many ideas about the way we could change things. It took us ten years of talking about it to figure out what we'd even run across."
Smith's "aha" moment came one night, seven years ago, during a hurricane. "I was all by myself in the house, no kids, no wife, no power, and the trees were going nuts in the backyard. And I'm lying there with nothing to do. And I realized that everything my father taught me applied to images." Then he went to work.
The result: a set of algorithms that can be applied to developed images to enhance them, so that X-rays, CAT scans, and PET scans look clearer. "You could turn the X-rays down by four-fifths and still be able to get a good image, even though there would be way less radiation hitting the plate," he says. Using gaming computers—which, according to Smith, work twenty thousand times faster than a supercomputer—the images can be enhanced in one one-thousandth of a second.
Partnering with an advisory board of scientists and physicians, Smith introduced his imaging company, Digital Harmonic LLC, in November 2015. It's a high-powered team that includes serious software developers and an applied mathematician. The recent hire of a chief executive officer—an accomplished businesswoman—allows Smith to fully dedicate his time to PRS. Digital Harmonic plans to have field-ready equipment available in spring 2016.
While his waveform imaging efforts are about to become realized, Smith's creative juices continue to flow and focus around guitar development and innovation. "We're getting ready to release something in the next couple months that I have been up to my eyeballs in!" he says.
Math, a "Monster of a Shark," and Digital Harmonic
All his life, 60-year-old Paul Reed Smith has loved guitars.
But he hasn't loved math. At least, he didn't think he did.
It's true that the founder of PRS Guitars, located just over the Chesapeake Bay Bridge in Stevensville, had parents who were mathematicians; his father was very involved in radar projects during World War II.
But the younger Smith never thought that gene was in him.
However, it is. All along, he's been using algebraic equations while designing guitars; he didn't realize it, however, until his late father pointed it out one day about 13 years ago when they were fishing.
It's a long story, but that's when Smith realized that the equations he was using at PRS could be used not only at his job, but across the medical, defense, and numerous other industries. And he recently founded Columbia-based Digital Harmonic to market software that is designed to, among many other uses, detect breast cancer in a more effective way.
It's a big risk, but a risk that a number of investors believe will pay off, especially given Smith's business acumen and the versatility of the new software.
If they're right, he'll be known not only as the man who built a guitar empire by making axes for A-list rock stars like Carlos Santana, Alex Lifeson of Rush, and Journey's Neal Schon, but as someone who had a hand in saving lives. And potentially much more.
The Awakening
The story began when Smith "hooked a monster of a shark" while fishing with his father on the Eastern Shore of Virginia. That happenstance, for some reason, spurred a physics lesson from the old man.
They ended up in a discussion about algebra, and how the equations he used at work have other applications. Lots of them, too.
"We were in the [U.S.] Patent [and Trademark] Office the next week," said Smith. "We spent a long time just figuring out what we'd come up with. It was a device that [gleaned] a huge amount of information out of a waveform [from data], like heartbeats. And it was the same thing with images, like a chest X-ray.
"We'd figured out a way to extract data, like your brain does," he said, from "what you can see and hear," though adding little more about the patents, which were awarded by the U.S. government on Dec. 31, 2013 for waveform and on Oct. 28, 2014 for imaging.
The first product is just coming to market, after what Smith only termed "significant investment" by PRS Guitars and by private investors, most of whom are from Maryland. Smith said he picked Columbia as the location for Digital Harmonic's offices due to the pool of skilled high tech workers in the area, the easy access to BWI Thurgood Marshall Airport, and "because we have classy digs" on Route 108, near Snowden River Parkway.
Vast Applications
In opening the new office, Smith is "handing off" the technology and management duties to CTO Shane Morris and CEO Roshni Sherbondy, a veteran of several federal government agencies and three private companies, to develop systems for security applications. Sherbondy has been in touch with patent attorneys and has hired Digital Harmonic's starting crew, which includes many consultants.
"Her employers have always been hardware-centric," Smith said, "and maximizing what the data has to offer has always been an issue."
"I felt very intrigued when I saw this software, because it allows sensor companies to use their data in a much more effective way," said Sherbondy. "I felt like it would solve issues I've experienced," which have included effectively screening bags at airports and the development of acoustic, radar, electro-optic, and millimeter waves and similar technologies.
Sherbondy said that Digital Harmonic's technology is in the prototyping phase and "that we plan to create medical products and defense products, too (exactly how the processing works more effectively than existing capabilities is protected by the patents)."
She added, however, that "the results from our processing offer a more accurate representation of images and waveforms in time, frequency and amplitude, thus allowing for more clarity in images, [creating] more information that can result in the easier detection of cancers and heart issues, as well as military threats, etc.
"The breadth of applications for this technology is vast, and I feel it has unlimited potential," Sherbondy said. "We are aiming to further develop our software and gain [approvals] while penetrating the medical and government markets."
That versatility "proposes an interesting way of changing how we look at images," said Michael Hibler, director of development at the Sidney Kimmel Comprehensive Cancer Center at The Johns Hopkins Hospital. "If images are made of waveforms, that inherently means that there is noise within those waves."
But the technology "is not a filter," he said. "What Paul is proposing is a very clever way of enhancing and reconstructing images based on math algorithms and finding additional data through how the technology processes waveforms."
And know, Hibler said, that "its potential uses go far beyond the medical field. The analysis tool doesn't care what it's measuring, and it provides a great opportunity to think bigger.
"Math is incredibly logical," he said. "Using it as a tool is an interesting science."
Do the Math
"There is much basic science in what is happening here," Hibler said "We have to work hard to translate it into applications. The onus is on Digital Harmonic to do so."
And, as Smith now better understands, there is a great deal of math involved in building a guitar, as there is in building a software program.
"One of the best things I've learned from Paul is that not only is the quality of an instrument crucial, but the same principle applies in science, where we look to make an experiment repeatable," said Hibler. "You need to do that in manufacturing to assure that each guitar stays in tune and resonates."
Speaking of resonation, Smith, who has lost a brother to cancer, said that "many departments at Hopkins have been very receptive to our technology" and that it's time for this new show to open.
"We will start with CT scans and stent operations," he said, noting that the first product should be fully operational within four months. "We still need FDA approval, and we have $5 million worth of shares left to be sold, but [the company's outlook is] very promising."